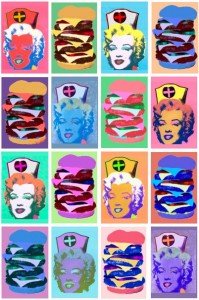 I read this here article today and had myself some mixed feelings about the restaurant in question.
On the one hand, while I can't even imagine what an 8,000 calorie hamburger looks like, I'm pretty sure any self-respecting carnivore would at least want to take a whack at it. And the idea of an equivalent Yay Scale in the middle of a mainstream restaurant tickles and delights me, as does the idea of a non-queer-specific, non-political venue where people can go on reprieve from the puritanical requirements of health, productivity and good citizenship.
In addition, I can't see any perceived failing that this restaurant has that is more pronounced than any pub/bar, smoke/cigar shop, confectionery, casino, etc. These are all consumer models based entirely on hedonism and excess. And in addition to that, if someone wants to eat/not-eat/drink/smoke/exercise/whatever-themselves to death, it's no one's business but their own and they're likely to do it regardless of any venue provided to aid in their pursuit. Body autonomy is a messy business and it is one without exception.
On the other hand, I had the same reaction to reading about this restaurant as I did to Mauritanian fat camps. Whether the subjective ideal is feather light or heavy duty, it is just that. Subjective. If the goal (and it is my goal) is to truly bring that joyful sense of body autonomy to the general public then it stands to reason that the public glorification, or villainization, of any specific aspect of a human body is ultimately counterproductive.
Where the restaurant loses me is is in the celebration of those who are 350#+ whilst simultaneously upholding the sexist parlance of thin, scantily-clad, Hooters-style waitresses. Each one of those things is problematic on their own but the combination of the two is downright infuriating.
Also, I'm trying to imagine a way in which offering free meals to those above a specific weight could be done well. The closest I can think of is as an honoring rite for those who move through the world with the least amount of privilege. But given the TGIF (Thank God it's Fatties?) ambiance, I'm guessing that making nuanced political distinctions with their messaging isn't #1 on their priority list.
I'm not so much interested in opinions on the article itself as it's, largely, the same old excess vs. frugality bullshit that I grew weary of years ago, but I'm wildly interested in other Rad Fatty opinions on this restaurant and/or wild imaginings on what kind of place could exist in the world that did what this restaurant is trying to do without any of the failings!