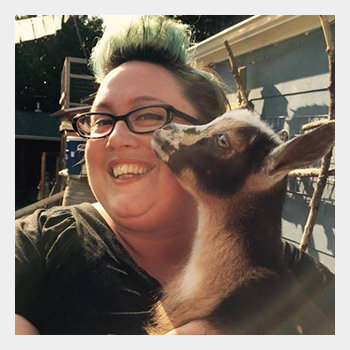 Hi! I'm Stacy, an activist and artist, formerly based in Portland, Oregon and now living in London, UK. At 41 years of age, I'm happy to say that I already have some pretty varied and successful projects under my belt.
In 2000, I founded TechnoDyke.Com. During its eight year run, TechnoDyke was a dynamic online publication and forum whose mission was to facilitate online and real-time community by providing queer-centric media by/for queer women. TechnoDyke's audience soared to over 50,000 unique visitors per month and over 15,000 registered members – and this in an era before social media as we know it! TechnoDyke went offline in 2008 as my activism found a new passion and focus.
In 2003, I founded and organized the FatGirl Speaks conference, with the help of an amazing troupe of committee members and volunteers. This day-long conference happened three times between 2003 and 2007, with sold out shows every time, growing from 300 to 800 attendees by its end. The format was a celebration of women of size and it featured workshops, body-positive fashion shows and evenings of performance art featuring women of size. Independently produced in its first two years, FatGirl Speaks was fiscally sponsored in its last year by the non-profit In Other Words Books and Resources, and partnered with Portland State University's Women's Resource Center.
Excited by the success of FatGirl Speaks, I co-facilitated several sister events whose goals were to continue the empowerment of women of size in and around Portland.
First, from 2004-2007, came the FatGirl Frock Swaps, a series of clothing exchanges designed to make plus-sized clothing (which is often outlandishly priced) more accessible, as well as to facilitate a comfortable and supportive clothes shopping experience for those who often find it otherwise.
Second came the Cupcake dance parties — a body positive dance night which ran from early 2006 to late 2007. This event created a fun and joyful environment for women of size and their allies to enjoy movement, push their fashion boundaries and create community.
Third came the ChunkyDunk, an annual summer series of body-positive, private group swims. These events are still ongoing and have had various offshoots in other cities and countries! I passed the reigns of the PDX dunks to others in the community in 2009.
In addition to event planning, I began the digital project, BelliesAreBeautiful.com as well as silly projects like the Badass Fatass Superhero Name Generator and the hilarious (once a year) Is It Snowing in PDX website.
Restless to move beyond Portland, I hired a talented videographer (my dear friend Val, who broke our hearts by passing away in 2014) and we took a 6 week road trip in late 2006 across 16 states and two countries, from Toronto, Ontario Canada to Atlanta, Georgia. During this trip, I interviewed 41 women of size about their experiences in the world. This grueling trip yielded over 50 hours of video and audio, was entirely self-funded (to the tune of $15,000) via a small inheritance from my grandmother, and was one of the most inspiring experiences of my life. Unfortunately, a series of deaths in my chosen family knocked me off track for a few years and much of the momentum that gathered across the road trip fizzled while I tended to my personal life.
In the quiet period following the road trip, I began a slow labour of love that is still evolving and unfolding today: the Fat Experience Project. Using some of the materials collected during the initial phase of the project, the Fat Experience Project is rooted in oral and written history and intends to become one of many currently available platforms to share the lived experiences of fat individuals facing stigma.
During my downtime, I realized that, while I felt that my heart and personal politics were in the right place, I felt my activism would be enhanced by a better understanding of social theory, global politics and the development of additional critical thinking skills.
For this reason, I decided that my next adventure would be the pursuit of an undergraduate degree in Anthropology and Media. So, I sold off 75% of my belongings and moved across the ocean to London, UK, where I completed my undergraduate education at Goldsmiths, University of London, in the Fall of 2014.
Since then, I have been focusing on a newfound love of illustration and animation as an activist tool. I have two part-time jobs — first at a local LGBTQ mental health charity and then as a Research Assistant at the University of Liverpool, and in my free time I create animations and comics and continue my skill building in both arenas.
(Current as of January 2016)