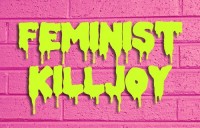 I'm gonna go ahead and be a feminist killjoy on this one. Dove's at it again with their Real Beauty campaign. This time they've asked 4 women to meet with an FBI sketch artist and describe themselves. Then they've asked 4 others to briefly meet the women and then describe them to the same sketch artist. Without seeing the women, the artist draws both sketches and then the women view the difference. It's heartwarming if you watch it without your killjoy glasses on, but unfortunately, feminist media analysis once again ruins EVERYTHING.
1) These experiences are so plainly curated. They chose pretty, well-dressed women of a certain class and they chose people of a similar attractiveness-scale and social class to describe them. Politeness in this scenario dictates a courteous description. This whole set-up is skewed from the start to give exactly the result intended.
2) I'm struck that, after seeing the difference between the portraits, one of the first vocalized responses (and indeed the underlying current to all responses) is "I have a lot of work to do on myself." This project succeeded in a) giving these women something else to be ashamed of and b) further encouraging the whole 'self as project' mentality that keeps people focused inward on their own failings, beavering away at loving themselves alongside (but not necessarily *with*) everyone else rather than attacking, say, Dove Beauty and its ilk for fashioning beauty as a worthwhile measure of worth in the first place.
3) "Do you think you're more beautiful than you believe?" Is that really the end goal? Is the pinnacle of success always beauty? Believing that others see us as beautiful? Believing that we are beautiful? I want people to question their negative self-perceptions, sure. But I would love for that to happen in a context where beauty doesn't always end up valorized. This is a mindfuck — 'everyone is beautiful, so you are beautiful, too!' still reinforces beauty as an aspirational value. And those who believe this, or believe they should believe it, yet also recognize that the social/economic hierarchies favor a specific kind of beauty, end up feeling doubly bad for failing to love themselves through injustice.
4) They focused a LOT on the other people describing women as not as fat as they thought they were. Fuck you for that, Dove. I don't even have to explain that one.