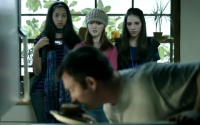 Geico car insurance dropped a new ad in January of this year in which a moderately chubby white guy, as a less costly alternative to expensive diet plans, hires three local teenage girls to follow him around making snarky comments. Normally, yet another in an infinite series of ridiculous stereotype-laden 30 second commercials wouldn't rate a blog post from me. This one truly disturbed me however, not only because of its content but because of the reaction it induced from a few fellow rad fatties.
In an online, fat-positive community, one person posted this ad in frustration. One or two commented their disdain but the majority (who professed themselves usually bothered by things like this) said only that they were largely unbothered by it and even, in some cases, found it funny.
I'm not posting this to shame them or to make anyone feel bad for finding the humor in this ad. I totally get it. There's a charm to the ad. It feels familiar, like an old blanket. The guy is amiable. The girls are a pitch-perfect trio of teenage snark. The man never truly gives the impression of being emotionally harmed by their behavior, though he is shown to make different choices based on it. It's easy to see how the good-natured, family-style humor helps all that naturalized myth to creeps in under the radar.
That said, this ad to me is incredibly problematic for exactly that reason. It's so effective that it even bypasses the warning mechanisms of some radicalized fatties. I admit, I chuckled. It's possible to find the humor in it, but that doesn't mean it's not harmful. And here's the subtext of this ad to help explain why: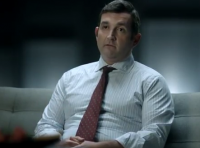 Main dude's a moderately chubby white guy, clearly a professional, but made to be a schlubby one as he's wearing a button-up shirt and tie, but no jacket. This gives the impression straight-away of mediocrity. He sits submissively, with his hands folded in his lap and his expression is alternately eager and dull. He's the underdog 'everyman', likable but visibly flawed, a little bit lonely (he's never shown with anyone else, save the tormenting triad), intelligent but lacking in common sense and self-control. He's passive, approval-seeking, malleable and clearly unsatisfied with himself.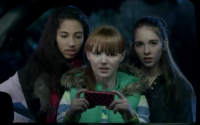 The teen girls are not just any teens. They are the "popular girls" and, for the purpose of this ad, that detail is important. This guy could have been a family man, he could have hired his daughter and her friends or the girls from next door. Instead, he is pictured as single and the iconic 'unattainables' of male adolescent fantasy are called in to provide a metaphor for his lack of sexual currency and respect from self and others. He is transported by his lack of will-power from his agency and authority as an adult male back into the role of the bullied and rejected youth.
Note the secret eating (in his car, alone, in a parking lot, late at night – the paparazzi-flash of the teen girls' camera phone capturing his mustard-stained cheek and indicating this as a humiliating moment that risks his social exposure), the seeming 'childishness' of his food choices (the strawberry waffles, thick with whipped cream and covered in sprinkles), slovenliness (an uncovered sandwich, bread half-off, pulled from the fridge in an old t-shirt, indicating inactivity.) Each of these stereotypical representations further naturalizes the myth of the fat individual as a byproduct of weak-will, poor food choices, excessive consumption and inactivity. They also reinforce the hierarchy of thin vs. fat wherein it is socially acceptable to critique others bodies and/or eating habits providing they appear to be less healthy than yours.
I know it's easy to miss this stuff. With so much bullshit coming at us every day in the media, it is exhausting to maintain a critical perspective. Sometimes it's just too much effort to block these messages and, y'know what? That's OK. Sometimes you have to just laugh and let it pass. No one can slog through this stuff 24/7.  But I needed to speak to this ad in particular, based on its subtlety. Hope it was helpful!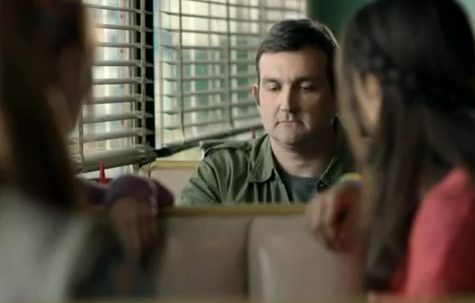 (Comments for this blog post are now closed – 'cuz seriously – Some of y'all are just being jerks.)