I'm going to start posting questions in my blog on Thursdays. I want to hear your thoughts! Post your answers in the comments section and I'll take samplings of your responses and put together a collective post at the end of the day. :)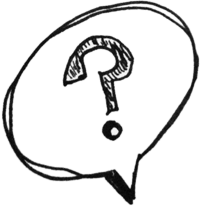 Thinky Thursday Question – Thursday, 9/23:
For those that this applies to, when did you first realize you were fat? Who, if anyone, pointed it out to you? When did you first hear this as a derogatory statement, if applicable?
My answer: I was a relatively skinny kid. I was tall and sunkist, mostly legs and braids and teeth — an active kid who rode her bike all over the place, loved rollerskating, was always outside rummaging through fields and "playing pretend." An extended illness when I was young, and the steroids I had to take to treat it, changed my eating habits and patterns in a way that stuck around long after the drugs did and started a slow and steady weight gain. Both of my parents were fat, so I was pretty much destined to follow suit genetically. That was just the jumpstart. Even still, I don't remember being self-conscious until the summer before 5th grade.
I remember being at the store with my mom, buying clothes for the school year. My options were polyester bell-bottom pants and too-tight t-shirts in last season's style. I remember being mortified when my mom explained to me that nothing else fit me. It was my first realization that I was larger than other people in a way that excluded me from something. This also marked my entrance into two years of fairly traumatic bullying — the kind you learn about in after school specials.
I realize as I'm writing this out that what I'm feeling is an overwhelming wave of gratitude for the fact that I got to go through 9 or 10 years of my life without being focused on my body or carrying around any shame about how it looked. I'm remembering the hot flush of shame that washed over my face that day in K-Mart, but I'm also remembering the freedom of playing dress-up, of gliding through the water without worrying how my body looked in my swimsuit. Wouldn't it be nice if we could stave off that introduction into body shame indefinitely? Everyone should get to live in their bodies as joyfully as we do as children.