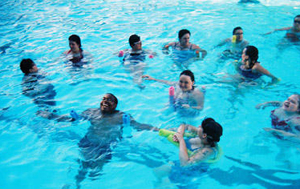 Over the next few months I'm going to be blogging intermittently about some ways to build fat-positive community — ideas I've put to use with varying success and ideas that I haven't had a chance yet to try.
For those who haven't made the leap, it can seem that there is some magic to event organizing — but the only actual difference between the folks that start events and the folks that attend events is the belief that starting something is possible and the desire and tenacity to try. (A little free time doesn't hurt, either.)
Creating community seems to be a pretty natural thing for me. I've been doing it since 1999 and most of the time I didn't actually know I was doing it when I started — it just kind of ended up that way by the time I was done. But at some point I picked up on what I was doing and started taking some notes about what works, what doesn't and (ideally) how to start doing it intentionally. ;)
One of our favorite events here in Portland is the Chunky Dunk. Chunky Dunks are an annual summer series of body-positive group swims. We rent a public pool for an afternoon, close it to the general public and do our best to create a super supportive environment for folks to swim. For all but a precious few, the idea of putting on a swimsuit is pretty daunting. For a lot of us, it's downright stressful. For still others, it can feel like too much to face at all. Chunky Dunks are our effort to create a space where that anxiety is minimized by gathering folks together who know what it's like, who have no interest in judging and being judged and who just want to get in the water together and have some fun! Every year we have folks who haven't been in the water in decades and watching them get in the pool for the first time is pretty much the best. thing. EVER.
Our events in Portland range from between 50 to 150 in attendance, depending on the weather. We charge $10-$5 sliding scale, use the profits to fund more Dunks and sometimes throw indoor dunks in the off-season when we have a surplus. It's a pretty easy event to organize and everyone LOVES it.
I've put together a call for organizers at our website and, along with it, a list of guidelines and resources for starting your own official Chunky Dunk. We're even hoping to be able to begin offering seed money for first-time events in the near future!
I want to challenge you — yes you — to consider the possibility of starting a Chunky Dunk in your city. I don't care where you live — any country, any state, any city. Small town? Have a small event! Big town? have a big event! Read the guidelines and give it some thought. The Chunky Dunks are a really gentle entrance into event organizing and they have a huge impact on the folks who attend. Dive in, future organizer! ;) Drop me a line when you're ready.